What are some health benefits of drinking rooibos tea? Working or doing housekeeping will be more fun if I have a cup of rooibos tea with me. Because of its moderate flavor and lack of bitterness, rooibos tea is suitable for a variety of situations throughout the year. This article will discuss the health benefits of drinking rooibos tea.

With exception of decaffeinated tea, which has certain antioxidant molecules taken away by the chemical process, rooibos tea is naturally caffeine-free and includes a large number of antioxidant chemicals.

Green rooibos tea, also known as unfermented rooibos tea, is a less oxidized rooibos tea manufactured by rapidly drying shredded rooibos leaves to keep their green color.

Meanwhile, shredded rooibos leaves are fermented for a few hours before being sun-dried and packaged to make red rooibos tea (fermented). The fermenting procedure gave this tea its crimson hue. The fermentation procedure entails putting grated leaves in piles, watering and combing them, and keeping the temperature between 38 and 42 degrees Celsius.

The flavor, aroma, and composition of rooibos tea vary depending on the processing technique, production location, and age of the bush. Keep reading to learn more about the health benefits of drinking rooibos tea.
What is Rooibos Tea, exactly?
Rooibos tea, often known as red bush tea, is a herb tea prepared from the South African shrub Aspalathus linearis. It's unique because the rooibos tea shrub can only be grown in the Cederberg mountains of South Africa's Western Cape province.

Rooibos tea is a caffeine-free tea with needle-like leaves, high antioxidant content, and low tannin content.

Since ancient times, inhabitants have enjoyed and drunk Rooibos.

Locals recognize it as a healthy herbal tea, and it ultimately catches the attention of the worldwide tea industry as well.

The SA Rooibos Council estimates that Rooibos output in South Africa averages 14,000 tons per year.

Some of the amounts are eaten in the United States, while others are exported to over 300 nations. The top Rooibos importers are Germany, the Netherlands, Japan, the United Kingdom, and the United States of America.

Rooibos tea, which can only be cultivated in South Africa, is becoming increasingly popular, and it is now accessible globally.
Health Benefits of Rooibos Tea
Rooibos tea is said to be a "healthy beverage" with few adverse effects.

In South Africa, rooibos tea was traditionally used to treat infantile colic, allergies, asthma, and dermatological disorders. Let's have a look at some of the health benefits of drinking rooibos tea.
Rutin, often known as Vitamin P, is a flavonoid with antioxidant properties found in Rooibos. Rutin is a nutrient that helps the body absorb Vitamin C and improves capillary function.

By smoothing blood flow and decreasing blood pressure, this flavonoid plays a crucial function in surrounding blood vessels. This is one of the health benefits of drinking rooibos tea.

The rich polyphenols and flavonoids in rooibos tea infusion have a blood pressure-lowering impact on experimental animals such as rabbits and guinea pigs, according to research.
Recommended on Amazon
Not only does rooibos tea include polyphenols, but it also has mineral and fluoride content. One cup of rooibos tea is believed to contain 2.8 milligrams of iron, 18 milligrams of calcium, 28 milligrams of magnesium, 10 milligrams of phosphate, and 47 milligrams of potassium.

The minerals iron and magnesium are necessary for our body's metabolism and energy generation.

It also improves blood flow and is supposed to help with cold sensitivity and intolerance.
It's been said that elevating your body temperature before going to bed makes it simpler to achieve a good night's sleep. Rooibos tea warms your body, making it ideal for a restful night's sleep.

Rooibos tea, on the other hand, is a caffeine-free tea with a relaxing effect. Drinking rooibos tea might help you relax and get a good night's sleep.

You should consume it for around an hour before going to bed as a general rule. Because rooibos tea has a diuretic effect, it should be used in moderation.
Recommended Products
4. Antioxidant-rich
Antioxidant-rich rooibos tea has been shown in studies to raise antioxidant levels in the blood. Let's take a look at what antioxidants are and why they can be useful.

Antioxidants are chemicals that aid in the prevention of cell damage caused by Free Radicals produced by your body. Antioxidants, on the other hand, are stable enough to function without an additional electron, thus they act by transferring this extra electron to free radicals. And that's a good thing!

Free radicals are inherently unstable compounds with an unequal amount of electrons. They're made by the body when it digests food and reacts to its surroundings.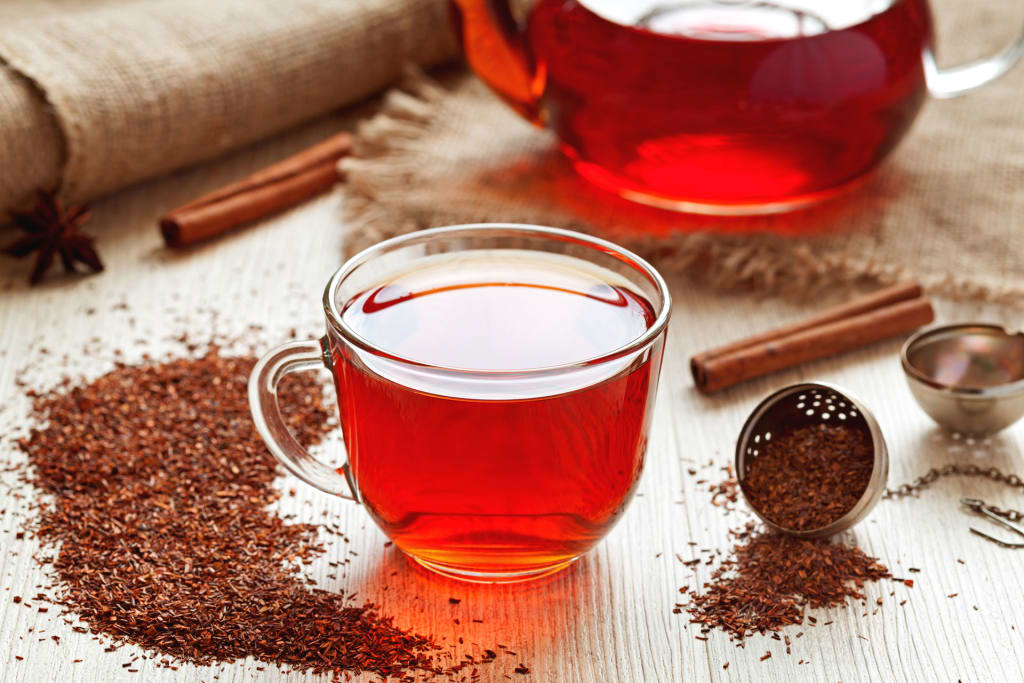 5. Get Rid of a Hangover
Because rooibos tea is high in minerals, it appears to improve liver function and alleviate hangovers. It is one of the amazing health benefits of drinking rooibos tea.

Because the body needs water to digest alcohol, this tea is also thought to be helpful for hydration.

Despite the fact that proof of rooibos tea's health benefits in humans is currently lacking, this herbal tea has a long history of medicinal usage and is regarded as safe for human use.

There is also no evidence of toxicity in rooibos tea, making it a nutritious and safe beverage for anyone.
Recommended on Amazon
6. Eliminate Swelling and constipation
Because it is calorie-free, including rooibos tea in your diet may help you lose weight or maintain a healthy weight.

Rooibos tea has an intestine-regulating impact as well as a constipation-relieving effect.

The modest diuretic impact of rooibos tea reduces edema, making you feel more energized.

Furthermore, because of its low tannin concentration, rooibos tea has little or no effect on protein digestion. In addition, unlike traditional teas with stronger tannins, it does not prevent our bodies from absorbing iron.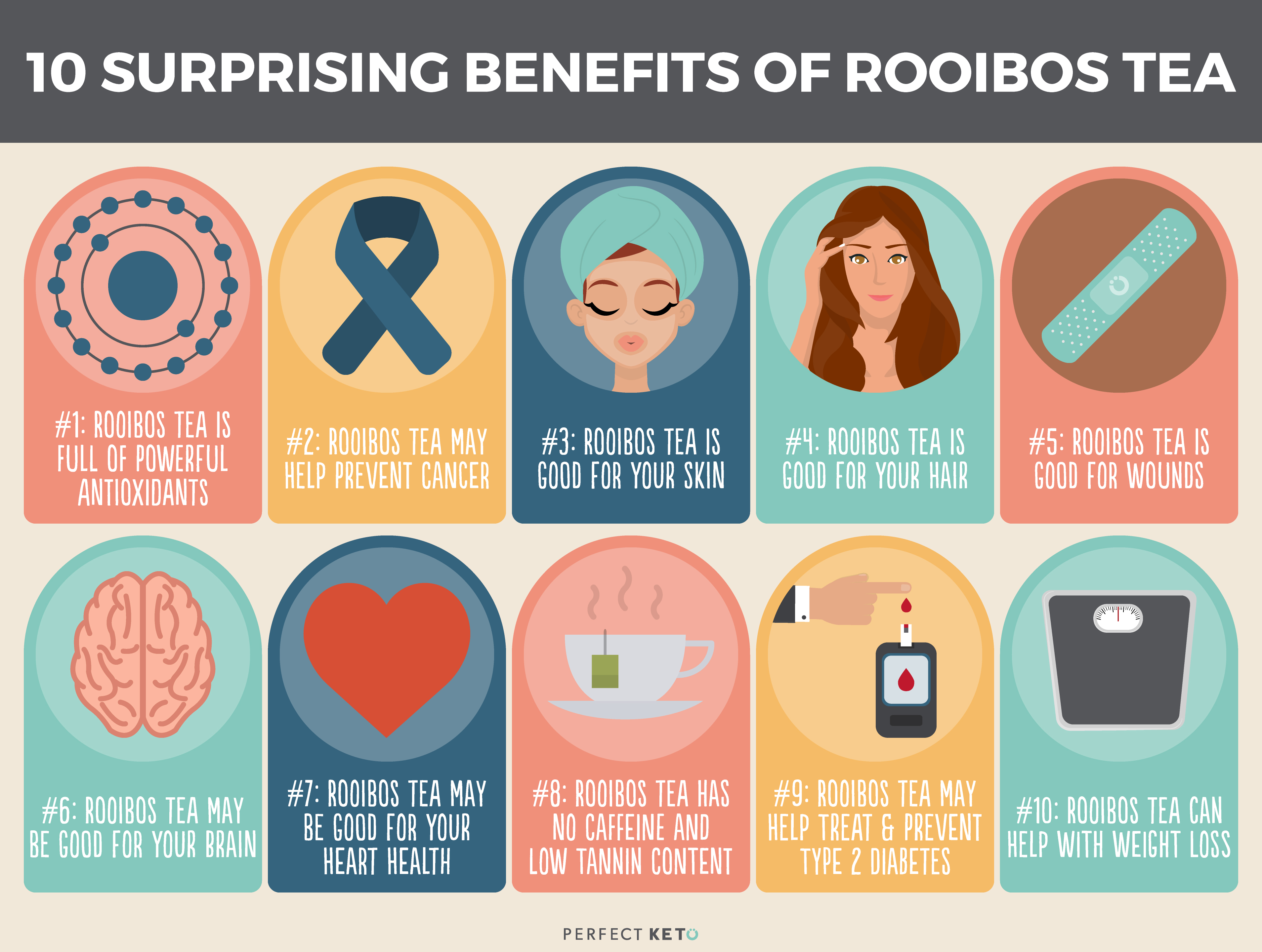 7. Rooibos Rocks tea is caffeine-free
Unlike other teas, Rooibos is caffeine-free by nature. Rooibos tea might be your go-to drink if you're attempting to cut down on your caffeine intake. Furthermore, Rooibos is your best choice if you're looking for something sweet and healthy to drink before bed. Explore organic healthy coffee beans on Amazon.

Because Rooibos has no caffeine, it may be consumed right before bedtime without affecting your sleep quality. In fact, Rooibos may improve the quality of your sleep.

Considering that Redbush tea is caffeine-free and has been shown to have a calming impact on the central nervous system, it should aid in restful sleep. As a consequence, you will wake up rejuvenated and ready to hit the road running.
Recommended on Amazon
8. Tannin-free
Have you ever wondered why you feel nauseated after drinking green tea, especially if you drank it on an empty stomach?

Tannic acid is present in most teas, but green tea has a particularly high level of this bitter polyphenol. As a result, it can induce constipation, acid reflux, and even nausea by increasing the quantity of acid in your stomach. However, because rooibos tea has a significantly lower tannin concentration, such a problem will not arise while drinking (even copious amounts of) it.

Tannic acid interferes with the absorption of non-heme iron (iron from plant-based meals) in addition to creating adverse effects including nausea. As a result, it is recommended that babies and toddlers, adolescent girls, premenopausal women, older men, and vegetarians who acquire their iron from plant-based diets drink black or green tea at least one hour after meals.
9. Reduce the Risk of Diseases Caused by Oxidative Stress
Free radicals and other reactive oxygen species are continually produced by the human body's metabolic process (ROS). Smoking, lack of exercise, and eating unhealthy meals all contribute to the generation of free radicals and reactive oxygen species (ROS). Excessive synthesis of these harmful species can potentially lead to disorders linked to oxidative stress.

Oxidative stress was the cause of many chronic illnesses. Neurodegenerative diseases (such as Alzheimer's and Parkinson's disease), cancers, and cardiovascular diseases are just a few examples.

Herbal teas, such as rooibos tea, are thought to contain potent antioxidant properties that protect against oxidative stress-related illness (in a study case using rats).

The polyphenolic components included in rooibos tea help to neutralize free radicals and preserve bodily cells from aging. This is one of the surprising health benefits of drinking rooibos tea.
How much rooibos tea should we drink each day?
Although one cup of rooibos tea per day is sufficient, healthy persons are believed to be able to drink up to six cups per day. Of course, because of the hazards outlined previously, pregnant women and children should restrict their consumption to 1 to 2 cups per day.

Let's drink a sufficient amount of rooibos tea to reap its full advantages!
Recommended on Amazon
Is it okay for me to add milk, sugar, or honey to my rooibos tea?
Some individuals like to add milk, sugar, or honey to their rooibos tea.
Many people also add a slice of lemon to their tea to give it a delicious flavor.

I also tried adding milk and sugar, and the Rooibos Milk Tea turned out to be a kid-friendly beverage. Later in this post, you'll find recipes for rooibos milk tea.

However, unlike some other herb teas, rooibos tea has a natural sweetness to it, without being bitter, and a honeyed flavor. As a result, rooibos tea is wonderful on its own.
How do you pick a good rooibos tea?
Choosing high-quality rooibos tea leaves is critical for individuals who consume rooibos tea on a regular basis. To gain the most nutrients from rooibos tea at once, we recommend purchasing organic or pesticide-free goods.
I hope this article on the health benefits of drinking rooibos tea was worth reading.
More Interesting Articles