How to scientifically cut grocery costs? Over the past year, grocery prices have increased by double digits, forcing many consumers to make do with less. The good news is that flavor or nutrition need not be sacrificed in order to reduce food prices. Let's learn how to scientifically cut grocery costs.
How to scientifically cut grocery costs
Try these dietitian-recommended shopping strategies to help you save money and get better health at the same time. Find below five genuine ideas on how to scientifically cut grocery costs.
1. Create Meals Using Cheap Basic Foods
You'll discover that certain items are grossly underpriced if you focus more intently on food expenditures. Consider the lowly cabbage. One medium head of cabbage generates up to 8 cups of shredded cabbage, which is enough to last for weeks. One medium head of cabbage will survive upwards of three weeks in the crisper drawer uncut (and well wrapped).
Use it to make tostadas, braises it and serve it as a side dish, or pickle it to make the slaw. An organic head of cabbage costs just $3 at the pricey urban grocery store in Oldway's Boston neighborhood. (The cost is considerably cheaper at many other retailers around the nation.) Spinach, carrots, and bananas are further examples of product choices that provide excellent nutritional value for your money.
2. Cooking Wine or Broth Can Be Replaced With Water
Can consumers on a budget use water in place of costly broths, stocks, and cooking wines? Yes! In certain circumstances, using water instead of stock or broth can be a terrific approach to allow components to shine because the difference in flavor isn't always apparent (and reduce sodium intake in the process).
Culinary legend Jacques Pepin uses water on purpose in his chunky vegetable soup in his 2020 cookbook "Quick & Simple" because it "retains the flavors of the veggies better than chicken stock would." When creating recipes, we've discovered that one of the most reliable methods to lower salt to a suitable level without significantly sacrificing flavor is to replace broth (including low-sodium variants) with water.
3. Simplify
You will need to purchase two separate cans if you're cooking a bean salad that asks for equal amounts of black beans and pinto beans, and you'll have extras of each.
Just purchase one can of beans and use the entire can for this dish to cut costs. Many savory dishes (such as grain salads, casseroles, sauces, and soups) are highly adaptable, even though the quantities might not be exactly the same.
Similar to this, feel free to choose only one or the other if a recipe for a sheet pan asks for 1 cup each of chopped broccoli and cauliflower. So, you won't have to spend extra for ingredients the recipe doesn't ask for when purchasing the vegetable by the head or the package.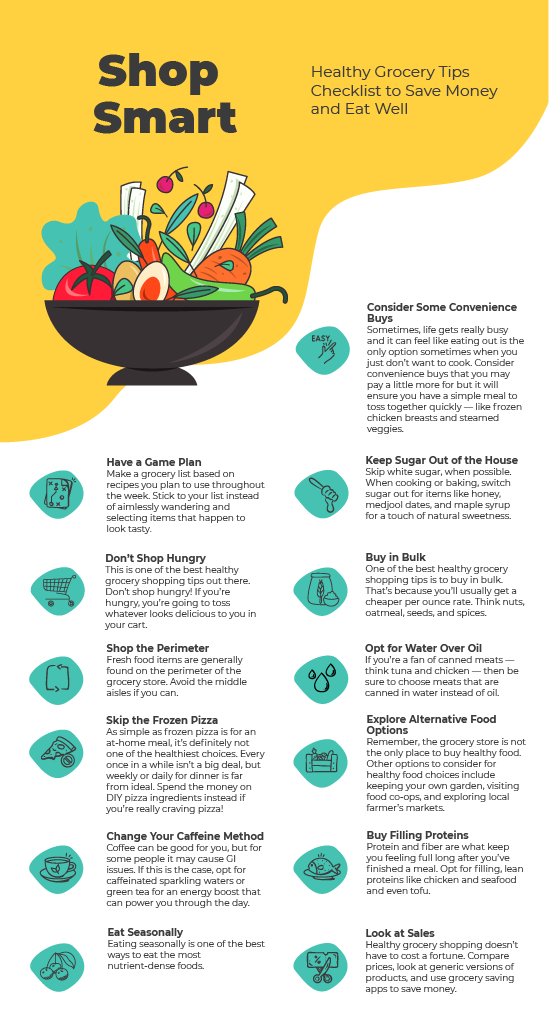 4. Put food first and beverages second.
Beer, wine, and fruit juice are "nice to haves" rather than "necessities."
Now is the ideal time to reduce and control your consumption if you're drinking more than the maximum amount of one alcoholic drink per day for ladies or two drinks per day for males. Although the odd glass of wine has been linked to cardiovascular advantages, drinking in moderation is actually better for your health.
Similarly, spending more money on food (such as fruits, vegetables, whole grains, and legumes) rather than drinks (such as soda, juice, flavored waters, and sports drinks) might help you develop the habit of drinking water with most meals and free up some money for the basic food categories.
5. Search Your Pantry for Alternatives
Check your cupboard and freezer first as you create your grocery list for potential replacements. If you already have walnuts and almonds at home, do you really need to buy pine nuts for a pesto? They make a tasty replacement that is excellent.
If you already have short-grain brown rice or farro on hand, do you need to purchase Arborio rice for risotto? Be imaginative! In meatball recipes, rolled oats can be used in place of breadcrumbs. A flatbread pizza crust made of whole grain pita may be made quickly and easily. You could even discover that you prefer your personalized pantry recipe over the original.
Bonus Tips:
Change meat for legumes
The relationship between meals that are healthier for you and the environment has garnered a lot of attention. But in actuality, many plant-based products may also be more cost-effective. Take protein-rich meals. Legumes (like beans) can be substituted for meat to enhance fiber and plant protein, lower saturated fat and cholesterol, and save money.
More Interesting Articles