What are some of the tips on getting ready for an overnight camp? An overnight camp may provide kids self-assurance, the opportunity to develop independence at a young age in a safe setting, and a method to pick up new skills.
Many kids believe that summer camp is the most enjoyable time of the year. Summer camp offers the chance to spend time outside, socialize with kids all day, do new things, and make friends for life. Sending a child to camp is generally a good decision for parents, but there are a few things to take into account whether picking a new camp or traveling to a sleep-away camp for the first time.
When it comes to sending your child to summer camp, there is no such thing as a terrible choice.
Day camp is a wonderful experience, and it may be the best option for certain kids. Particularly for younger kids who aren't ready for sleepaway camp, this is true. Day camps are a fantastic way to give your kid a good time this summer. Aside from education, there are still many options to enjoy long-term travel, acquire new skills, and participate in outdoor activities.
With sleepaway camp, there is little doubt that the children spend the evenings there. There are more possibilities for enjoyment, learning new skills, trying new activities, and forming lifelong connections since campers are at camp for a longer period of time. Additionally, campers form bonds with others in their bunk, and many of them maintain contact far beyond the summer.
Teenagers and tweens who like day camp already are often prepared for sleepaway camp. Even younger children who enjoy being outside and participating in typical camp activities are prepared for sleepaway camp.
Your kids will anticipate camp opening every year if you pick the correct sleepaway camp.
A Sleepaway Camper's Life
The majority of overnight campers share a cabin with other children, a camp counselor, or other staff members. There is frequently a modest communal place for gathering in cabins. Indoor facilities and showers are available in some cabins. Other campgrounds include more compact cabins with showers that are situated next to a group of cottages.
Days are often spent outside taking part in various camp activities. Most camps prohibit electronics. Children might not enjoy this at first, but after a couple of days at camp, they won't likely miss their devices!
The majority of campers dine in a dining hall with their bunk or other kids of a similar age, while some cookouts do occur. While it is normally required that campers consume the meals provided by their sleepaway camp each day, some camps provide an alternative that most children enjoy, such as buttered noodles, to guarantee that children don't go hungry.
Selecting a Camp for the Night
When selecting a sleepaway camp, there are a number of things to take into account.
1. Location
Start with the place. In case of an emergency or because you can't travel many hours to bring your child to camp and back, you might want them to stay near to home. But don't dismiss a camp because it's too far away.
Buses that depart from major hubs are available at several sleepaway programs. Don't discount a camp in New Hampshire just because it's far away before checking into the transportation alternatives the camp provides.
2. Activities in a camp
The majority of sleepaway camps provide a variety of classic camp activities, such as swimming, campfires, and archery. But some camps offer unique programs like art camp, primitive camping, hiking, lake activities, ropes courses, rock climbing, and more. Even riflery, waterskiing, and wilderness expeditions are available at certain places. There is a camp out there that can accommodate whatever your child likes!
If your child has a unique interest or wants a certain sort of camp experience, it's worth inquiring about this as many camps have staff that specializes in particular abilities, like equestrian riding or survival skills.
Some camps include off-site excursions to surrounding campsites, canoeing, go-kart tracks, or other attractions, providing more chances for fresh and unusual experiences.
Selecting a Night Camp Session
Two sessions are often available to kids at sleepaway programs. Usually, the first session lasts for a longer period of time—four weeks—while the second lasts for a shorter period of time—three weeks. For new or younger campers, several camps also offer one- or two-week periods.
If your child wishes to spend a full seven weeks (or more!) away from home, most camps allow you to combine sessions. Children may be able to attend their initial session at some camps before deciding whether they wish to remain longer. This won't be feasible, though, if your camp's second session is already filled. Many camps fill up rapidly.
Another factor to take into account is that campers sometimes want to sign up for the same session year after year in order to keep in touch with their friends and counselors. Choose carefully because this might be difficult for parents who seek flexibility when booking trips and other summer activities!
3. Safety Requirements
Clear safety regulations, including coronavirus protocols, should be in place at camps. The safety policies of many sleepaway camps, including the COVID precautions, are publicized on their websites. Before choosing a camp, take some time to go over them and make sure you are happy with the rules.
For the duration of the summer, some sleepaway programs confine kids in a tight group, while others let them mingle. While some camps send students off-site for medical care if necessary, others keep a nurse on staff. Before registering, make sure you are at ease with the safety precautions your camp offers. You will feel quite at ease knowing that your child is in capable hands as a result.
4. Practical Points of Interest
It takes balance to be ready for an overnight campout! Without overpacking, you want your child to have all they require.
Labeling everything is the first guideline for an overnight camp. Along with t-shirts and swimming suits, this also applies to items like socks and toothbrushes. This considerably improves the likelihood that anything will turn up if it goes lost.
Make certain that both you and your child understand how to communicate with one another. To ensure that their children receive letters during their first week at camp, many parents write to them a few days prior to the start of camp.
You considerably enhance the likelihood that you will hear from your child by pre-addressing envelopes to everyone you want them to write to (including you!). Check to see whether your camp publishes pictures, and if it does, instruct your child to go find the camera and give a hidden thumbs up to show that they are having fun. Keep the camp's emergency phone number handy so you have it if you need it.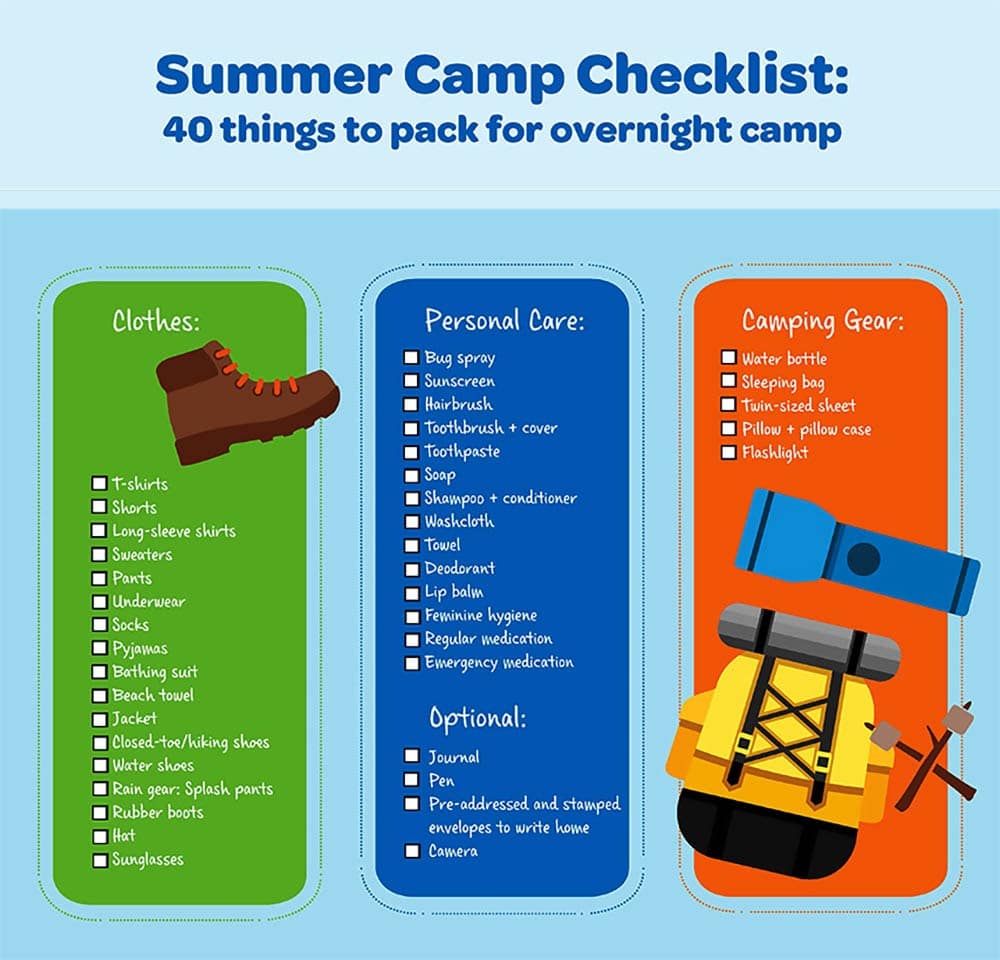 Children enjoy receiving things, so inquire with your camp about what is allowed. While some camps only allowed flat envelopes and don't allow parents to send food, others only permit whole boxes with no limits.
Ensure the luxuries of life! Please deliver a battery-powered fan. To ensure that youngsters have something to play when there is downtime, provide some tiny games like a deck of cards or portable Connect 4.
Ask parents that have experience with overnight camps for any advice if you can. Even if a robe isn't listed on the camp's packing list, you could discover that everyone still requires one. Or, you could learn that each kid packs light sticks for the event marking the camp's beginning. These insider hints may be priceless!
5. Getting Ready for Summer Overnight Camp with Your Child
Some children are eagerly anticipating their time at sleepaway camp. Others might require a little planning to make sure they have a good time on their summer vacation.
If you attended the sleepaway camp, begin by discussing your personal summertime experiences there. To generate enthusiasm, post footage of your potential campers on the webpage for the overnight camp.
See if someone you know may connect your family with another family whose child attends the same summer camp. The greatest method to enthuse a reluctant youngster about overnight camp may be to hear firsthand from another child about how much fun it was.
Be open and honest with your child, letting them know it's normal to miss home but that camp is still fun. Assure children that even though kids may occasionally feel sad about being far from their family, they will still have a terrific summer by paying close attention to their feelings and concerns. Avoid saying to your child that you will pick them up if they want to go home, even if it is true. This will prevent them from phoning for a ride home in the middle of a sorrowful but brief time.
Any abilities your youngster will need to master, help them practice! Some amps demand that campers change their own sheets and make their own beds. Your kid could have to take a shower in less than five minutes. Their stay at camp will go more easily if you can help them prepare by helping them practice these skills beforehand.
6. Paying for Overnight Camp
Summer camp is not inexpensive. Overnight summer camps give their children a special, priceless experience, but doing so has a cost. Many parents set aside a certain amount of money each month to pay for overnight camps.
Ask whether the overnight camp you want to send your child to offers financial aid if the overnight camp is out of your budget. Many parents are shocked to learn that there is financial help available for summer camp. Additionally, there can be grants offered by nonprofit institutions. Prepare yourself for the finest summer ever, no matter which camp you select! All the best to you.
More Interesting Articles